Bad News! #Parler shadow bans too, or at least throttles views.
As a Minecraft developer, our Alpha Development posts have been being made on Parler since leaving Twitter.
In April 2020, I undertook overseeing the development of SkyThrusters first Minecraft Adventure called, "Washington Has Fallen", essentially a Minecraft experience and story following a conservative patriotic theme, in which Socialists have taken over Washington DC during a pandemic, and ultimately Kidnapped the President. You become a member of the X-Team, and must fight the anarchists and terrorist, and ultimately save Donald Trump.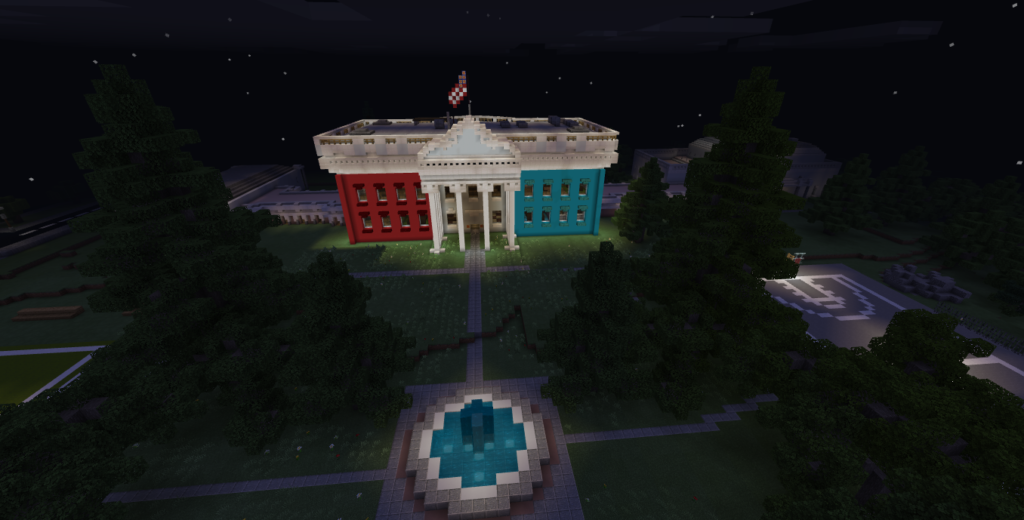 In April 2020, little did it occur to me, that in all except for the kidnapping of the president, much of this Minecraft experience would begin to take on prophetic aspects of reality.
We began posting daily updates to the SkyThrusters Facebook page and later Twitter, and in June 2020 closed the Twitter account, after the SkyThruster account was tagged for suspension four times in two months, as were many other conservative gamers and followers. Twitter ultimately shadow-banned the account to the point that none of our posts were appearing publicly in any of the hashtag feeds, and only our followers could few.
This seemed highly unusual considering the posts were about Minecraft, and a few retweets and tweets about topics important to the Silent Majority, Trump followers and Conservatives.
So the decision was ultimately made to just leave Twitter altogether and move to Parler which promotes itself even in its name, as a free speech social media platform.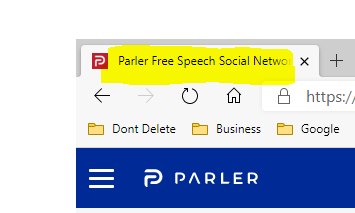 But is it? This is where our story picks up.
The past several days, our updates on Parler stopped appearing in the Hash-tagged feed.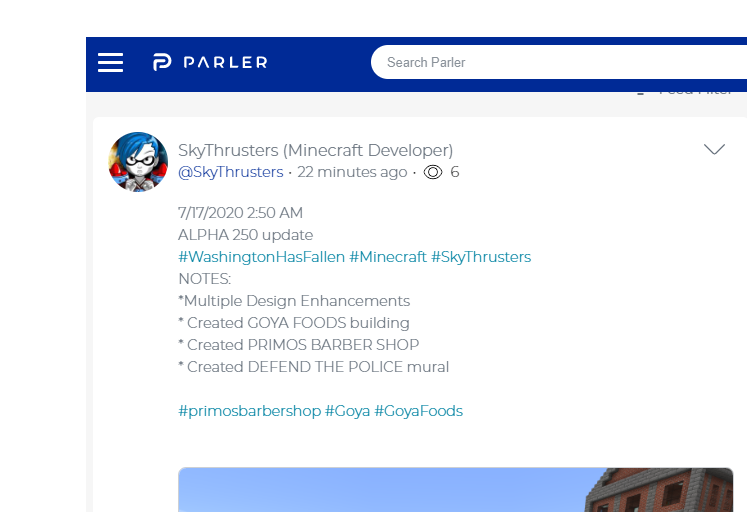 This seemed unusual, because Parler has a very small community of #Minecraft developers or gamers, so there is no reason, the #WashingtonHasFallen posts should be blocked from appearing.
It didn't start until a comment was posted about blocking Hillary Clinton and actually blocking Hillary Clinton on Parler. We didn't move to Parler to be forced to view and have Hillary Clinton or similar socialist leaning politicians shoved in our faces, in fact that was a big reason for leaving Twitter. All #Twitter showed in our recommended people, ads and sidebar were radicals who are tearing down the US Constitution. So when suddenly Hillary Clinton appeared in our Parler recommended feed, we took immediate action to make a single comment disapproving, and then blocked her account.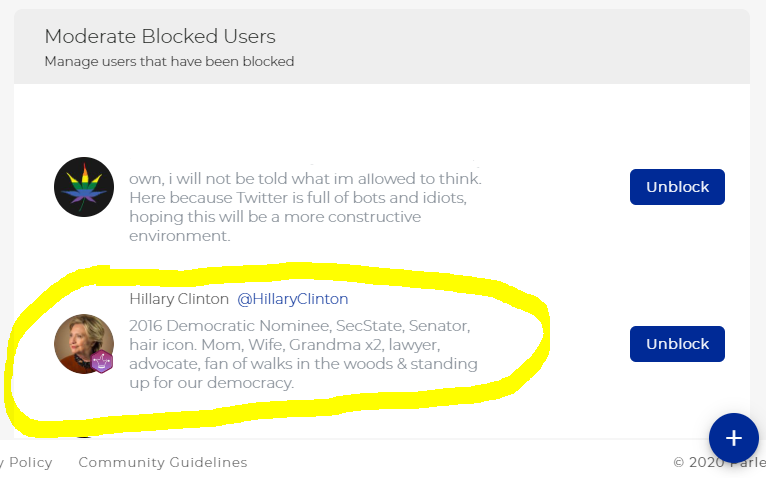 Parler in its user statement actually says in essence that commenting on its paid, sponsored or certain "Verified accounts", is against its rules. So basically, despite claiming to be a "Free Speech" and "Censorship Free" platform, perhaps it more of a sales pitch. A pitch to get people looking to ditch Twitter's toxic environment to cross-over.
In SkyThrusters Minecraft Developers circumstance, that is exactly when our daily morning posts updates began not appearing in the feed. Is it temporary? Maybe.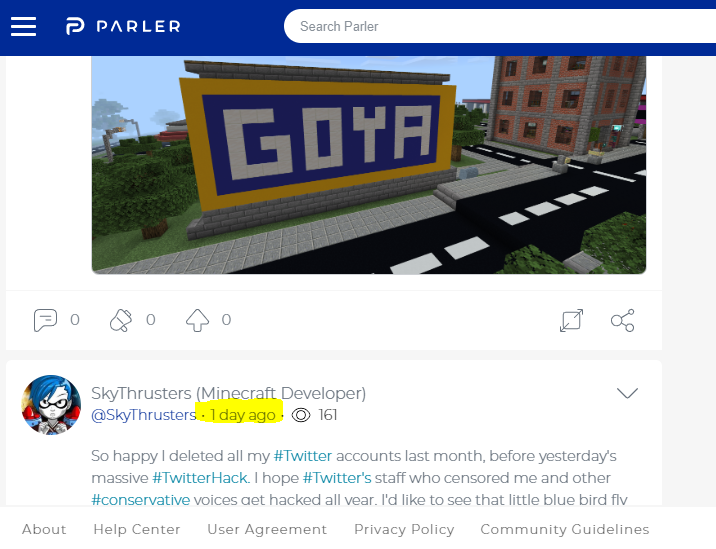 When this post from 2:15 AM on July 16th didn't appear, I began to question things. It wasn't the first time this had happened. In the past, I had a personal Parler account where similar happened. At the point, it was my own personal account, and since Parler was kind of dead anyway, and its app had continually crashed I just popped back over to my Twitter account.
But this is a year or two later, and for SkyThrusters use, so when posts stopped showing up in any of the trend tags, right after Hillary Clinton was blocked, I at first thought it might be just delayed. Nope.
So I edited the post and reposted it later that evening at 5:15 PM, to check. Still Nope.
The tags included Goya and Goya Foods, Defend The Police and Primos Barber Shop, because it that previous mornings development, two buildings were added to the Minecraft Adventure to represent these two outstanding businesses standing up for their American Values and Constitutional Rights.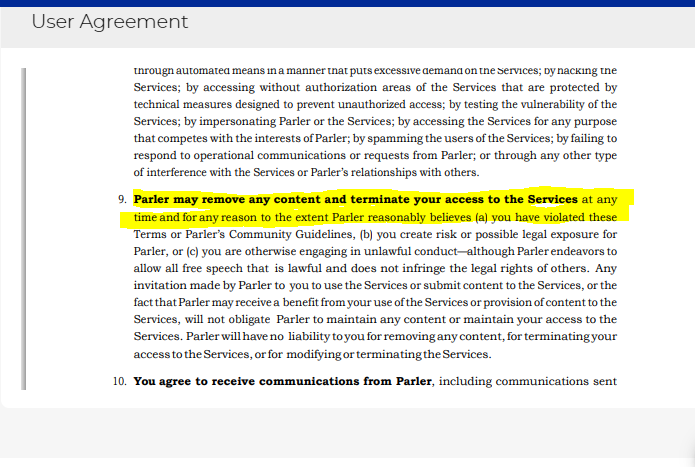 I decided to google search for Parler and Shadow Bans, and there just happened to be an Alt-Left article about Parler banning and removing comments. This is disheartening, because at least on Twitter, even though an account gets suspended and shadow banned, In all the years I've used it and had been shadow banned to the point only those who actually followed me could see me posts, they at least didn't outright ban me, or anyone else I knew.
Maybe Parler is or will become like ELLO, the social media website that everyone thought would save us from Facebook, but quickly disappeared from even being mentioned.
Also weird about Parler, is a few days after opening the SkyThrusters account, I applied for its verification program, following all of it steps. I had to do this through its website, because its June 2020 Google Play App update caused it to be almost impossible to join Parler, and the app continually crashed until they released a new update that fixed it a month later.
After the SkyThrusters account went through its official verification process to receive a badge, following all their requirements, they rejected it, saying that the information on the front of my drivers license didn't match the back side of my drivers license. Really? The DMV messed up the back side of my drivers license? That didn't stop that crazy patrol officer from putting me in his SUV when I was leaving Oklahoma, headed to Missouri, just because I have California Plates. You could of just said you didn't like us! When we attempted to contact Parler via its website reply regarding its denial, no response was received. I didn't find out why it had been rejected, until they fixed their app, and I decided to try reinstalling it. It was their, that they provided the reason, "The front of your ID must match the back of your ID." It's a drivers license for Pete's sake!
Update on Parler's verification process. Now that the app was working, I decided to give it another shot. Previously I had my old Drivers license and used that. This time I used my new "Real Id" drivers license. Going through the app process of verification instead of the website, revealed that they are looking for a scan bar code on the back that only the new drivers licenses have. That's a bummer for those who still have the older versions of drivers license, because they will experience the same problem. It would have been very helpful if Parler had responded to my request for more details, other than just saying, "the front of your license or id, must match the back", because that was totally disingenuous. The back of the older licenses do not have the scan codes. They could of just said, your ID doesn't have the needed scan bar code. Either way, having provided the new updated Real ID license via the app, and the selfie, via the app, it only took around 3 hours to become verified. They information in the app, says it normally takes up to 48 hours. I'm still very resistance and hesitant to uploading private information like a license via a website or app. I've already been a victim of ID theft via several very secure websites, and FaceBook has a history of storing private user information on insecure servers.

In their community Guidelines, Parler strongly advises its general non privileged users to "Avoid Targeting Red-Badged users". This concerned me when I initially signed up back in June. It seemed really unusual to me, that users were being given special status badges and protections based on their community Parler badge system.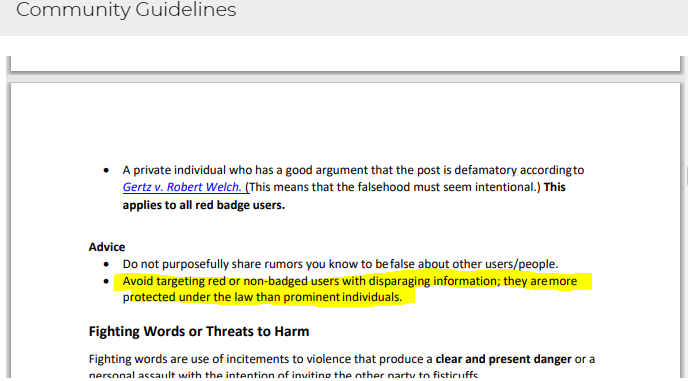 So the question remains. Did Parler intentionally shadow ban our posts for several days on purpose?
Did Parler target us, for violating the "Red Badge" member, Hillary Clinton? Resulting in our Update Posts from showing anywhere than to our followers for three days?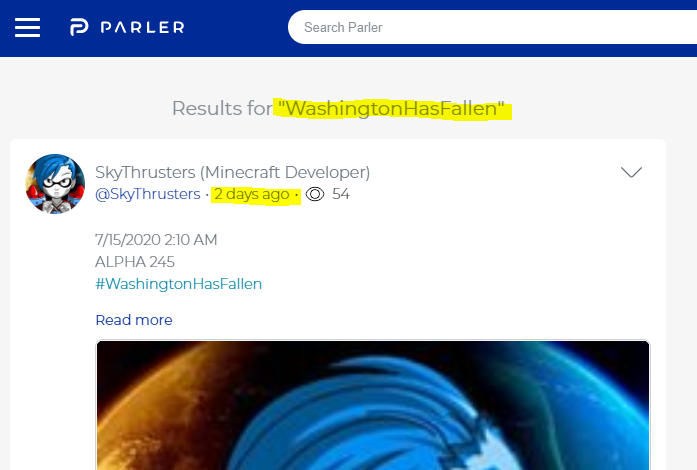 Who knows! But it sure feels a lot like Twitter. As I have said, on Twitter, even though Twitter denies its obvious manipulation of posts, its staff members having the ability to override accounts, ban posts, bump accounts by forcing them to re-verify to log in, while meanwhile removing all their followers and followed accounts etc. At least we had lots of evidence to support that they were doing it, even prior to this weeks Hack of Twitter, in which the hacked staff accounts screenshot the Twitter admin module.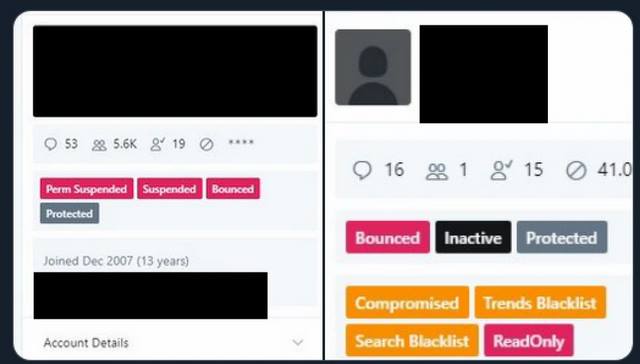 Ultimately, Parler will need to decide if it really is a free speech platform. Right now it doesn't honestly appear to be that.
A quick Google Search for the terms Parler + Ban resulted in a lot of news articles and blogs about Parler banning socialists who came to the platform to "screw with MAGA people". As in this NBC News article. https://www.nbcnews.com/tech/tech-news/conservatives-flock-free-speech-social-media-app-which-has-started-n1232844
Perhaps, Parler should call itself a platform for conservatives, since that appears to be its target audience. #Freespeech after all is a high standard to live up to, even for #Parler.
On another positive note, Parler has updated and fixed its android app, but not before tons of new users gave it a one star for crashing over and over again. These were users like myself , who came over from Twitter.