As a professional Mercari seller, and overall 15 year online marketplace seller, I have spent years beta testing apps, marketplaces and seller tools.
A brief peek at my Angel List profile will prove it, if you're bored enough to go look at it. (HERE)
When Mercari brought it's Selling App into the twentieth century by launching a matching website, I was first in line to be one of its beta testers too.
But something was missing. I was used to selling on eBay since the early 2000's, ecrater, Bonanza, Storenvy, etc. At one point there was a website called Shopseen (I beta tested that too) which easily allowed me to manage my product inventory and list products to the stores I sold on.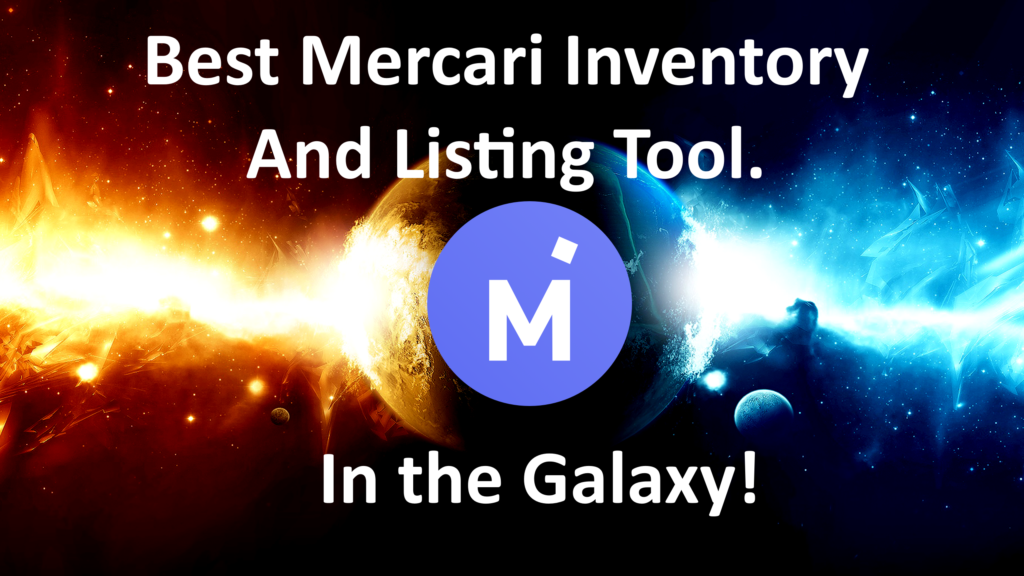 By 2017, Shopseen was long gone. It died a slow and painful death, right after testing out an app version.
But Shopseen was a pioneer, a frontier innovation that unfortunately, several better funded tech people were able to hire more programmers and build faster than Shopseen was.
So a big gap was created, as the similar websites that survived charged a hefty fee per listing via its tool.
Then came ClassAdLister around the same time that Mercari USA launched its website version. At the time, it was only available on Google Play android devices. A great tool, but I needed to be able to input data fast. I needed to upload photos easily. I didn't want my entire inventory on a smart device I might lose or misplace. I needed a inventory and listing tool for Mercari on my computer.
Then came all the changes at Google Play, which forced smaller, struggling app developers to leave. Google Play was slow in providing developer updates, and then wanted immediate updates when they actually released new requirements, and so ClassAdLister fell off of Google Play, and android smart devices. It was a sad, sad day.
But it's 2021! Woo hoo! And despite a global pandemic in which states like California crushed small businesses into the nether world (The Nether World is a place in Minecraft), ClassAdLister survived. Not only did it survive, but Bluestacks Android Emulator reached a whole new level, making it possible for ClassAdLister to be used on Windows 10 and newer Macintosh computers. A dream come true.
ClassAdLister (Don't ask my why its called that. I have no idea) is a donation sponsored inventory and listing tool that works fantastic with Mercari.
In fact, as Mercari beta tests it's new Mercari Pro Sellers Program in 2021, its a great companion, whether you are currently beta testing the Mercari Pro Sellers Program, or signed up on its waiting list.
What, you're not a Mercari Pro Seller? No sweat, if you have a lot of the same kind of product to sell on Mercari, or you simply want to be able to manage your inventory and easily list on your Mercari store, ClassAdLister makes it possible.
I call it the best Bluestacks Mercari Inventory and Listing tool in the galaxy, and until we achieve trans-warp drive space vehicle's (This Star Trek), I think I can make that claim.
SellerThink on YouTube where I host videos discussing Mercari is not sponsored, nor compensated in anyway by ClassAdLister or its owner. It's just a great tool, and its the only tool that works with Mercari.
Now I did see a guy promoting some kind of robot listing tool for Mercari that has some advance capabilities similar to the old ShopSeen, but the prices, were very hefty, just to be able to list things on Mercari, especially since you can do that with Mercari's app. Plus ClassAdLister is NOT a bot. It does not violate Mercari's TOS in how it works. It not too much different than you logging in via Mercari's app, other than it's not made by Mercari.
But, the advantage here, is for those of you, who similar to myself were forced to close our Micro Businesses and Small Businesses by our governors, cities, and states due to the pandemic. Tons of small businesses died over 2020 and 2021, with no access to federal PPP money, because they were micro small business, sole proprietors with all of the investments and inventory at risk. Micro Small Businesses, often use their own personal money, as opposed to a small business that has silicon tech investors money, or shareholders money, or an LLC (Limited Lability Corporation) to protect their money.
ClassAdLister, maybe a good solution for you, same as it is for me here in California, where I was forced out of business in August 2020, unable to access PPP funding, and denied pandemic unemployment money, because I tried to keep my business open, working with only five dollars coming in a month. According to California's EDD, the mere fact that I worked and struggled fifty plus hours a week trying everything I could think of to save my business, that is a disqualification for pandemic unemployment, because work with out pay, is still work.
ClassAdLister is an inventory management tool, meaning that you can list all your inventory into it, without having it appear for sale in your Mercari store. Why is this important? Because if you have been selling online for any length of time, you realize it takes a long time to list products. With this tool, you can pre-list them, take your time, you don't have to complete the listing like on Mercari's app or website. Unlike eBay where you can create listing on eBay, offline. Mercari doesn't have such a feature. You list it on Mercari, and then its live.
There are all kinds of reasons why you don't want to do that. For one, you may still be locked down. Even though California's Governor immediately began lifting its restrictions within a week of two million voters signing up to recall him. Those laws he put in place, can instantly shut your or my business down within a day. You may be like me, in a situation where my store is out of business, in addition to not currently being allowed to reopen, because it doesn't fit this states current reopening rules.
But what I can do, what you can do, is list whatever product you have into ClassAdLister, so the moment you're allowed to reopen, you only need to click list on those items, and they are all ready to list to your Mercari store.
Well, during this whole stinking lockdown, I'd been thinking about ClassAdLister and doing a new video about it. I'd done videos in the pass when it was still available on Google Play, but my previous computer was from 2013 and couldn't handle Bluestacks, which meant ClassAdLister wouldn't work for me.
During the pandemic I used $180 from my federal relief stipend, and bought a 2014 used I7 computer at auction. It's still old compared to 2021 computers, but it allowed me to install Bluestacks.
So I contacted ClassAdListers creator and asked a bunch of questions, then I installed the app on Bluestacks and tested it with Mercari. You know what? It worked! In fact it worked great. As a computer person, I love big keyboards for fast typing. I love being able to have multiple folders with different photo categories and inventory.
I finally got around to filming and screen capturing the key steps involved in using ClassAdLister for the SellerThink YouTube channel. So if you're interested, then check out my How To Video, for using it with your Mercari Store. The video shows how it works and discusses why you as a pro store, pro seller, or just someone who wants to create listings, without having to bring them live one at a time, can benefit by using it.
Hope it helps! We small businesses and micro-businesses need all the help we can get after being obliterated, crushed, destroyed by those people we thought were for us in our city councils, state legislatures, US Congress.
And on that note. Remember to vote for those who have proved they are honest in being pro-small business. Ditch the jerks who ditched us. Think different in 2022 and 2024.