ShopGoodwill is the online version of Goodwill. It has a few pros and con's you'll want to know about.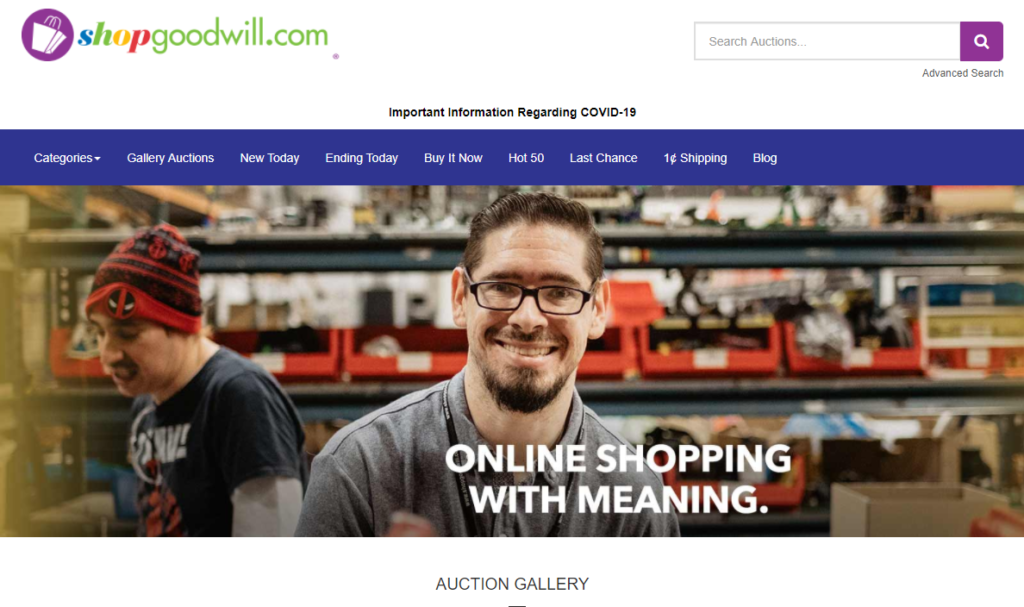 Item descriptions are vague, sometimes non-existent. So take a look at the photos very carefully and make sure know what kinds of signs there are for that product type that may indicate excessive wear or functionality.
Some Item titles and descriptions are incorrect. So again, make sure you know what you are buying and what to look for.
Handling Charge. Most locations have a handling charge in addition to the shipping charge. This will be add to the total shipping price at check out.
The majority of Shopgoodwill's eCommerce locations will respond in 12 to 24 hours to questions you submit about a product. Most will give you additional details if possible. Most will end and relist or adjust a listing that has incorrect information if you let them know. Things like Models numbers or some of the photos being for a different product are one of the more common errors.
Some Shopgoodwill's sell in lots. Those are my favorite. If you're looking for a large lot or bin, then Southern California's Santa Ana store is the place to look.
You'll want to keep your eye on the shipping prices and make sure to include that into your bidding equation. Some Shopgoodwill eCommerce locations haven't negotiated any contracts with a shipper and have excessively high shipping rates. Others have, and you'll see that reflected in their shipping prices. Some use USPS, others UPS, but the ones with the best prices tend to be USPS or FedEx.
Talking recently with the eCommerce assistant manager I interact with, led to an interesting conversation about how shoppers on ShopGoodwill often bid way above the current market value or price for the same thing on other marketplaces. You know, some people just can't stand to lose and it becomes a competition.
If you live close to a Shopgoodwill that manages a states eCommerce location, you can save a little money on shipping, but arranging to pick it up in person, but make sure to check the distance from where you are.
Sold As-Is. All of the products sold on Shopgoodwill are Sold As-Is, No Returns. That makes shopping on Shopgoodwill a bit riskier than other marketplaces that offer a 100% money back guarantee. Keep this in mind if buy electronics or clothing.
Not tested, Sold for parts. Only a few of the vendors test electronics. In most cases, those vendors has someone knowledgeable who will do basic power-on, functions testing. Read the details of the description. Most do not have anyone to state whether it works or functions, some will just say the power light appeared when they plugged it in. Others will just say, Sold-As Parts. If you're knowledgeable at doing self-repairs, you can probably find a few deals once in a while, but maybe not, even those Sold-As Parts items sell pretty high.
Keep an eye on your account information, e-mail, etc. Someone from within the ShopGoodwill I work with, once used the information from an item I bought and my ShopGoodwill e-mail address which is only used on ShopGoodwill, to send me a fake FedEx Phishing e-mail label, with a link attached to try to obtain my password. Thing is, I was picking the item up in person that day, so I knew the FedEx e-mail was bogus. I had my name, order number and looked like a real FedEx e-mail until I read it closer. It also used someone else's phone number as the support number, had a fake tracking number. I never click tracking numbers from shippers. I copy the number and then go to the shipper website and manually enter it. Of course, this time it was fake. After working with customer service, they have hopefully worked it out.
Payment is via PayPal or Stripe which is a credit and debit card processing service. Stripe is a very trustworthy payment processor.
How much and when should you bid? I still haven't figured that out. Like on other eCommerce auction marketplaces, you'll get last minute high bidders. These are shoppers who wait to the last few minutes to bid. They do this to keep their bid from encouraging competition bidding and to help keep the price lower. If you don't want to have to keep an eye on the price, know how much you want to spend, and /or won't be able to get online when the bid ends, then go ahead and bid your maximum. Shopgoodwill's system will manage the bidding for you and only increase it to the lowest newest competitive bid. If your highest big was received first, and someone else bid the same amount, resulting in a tie, the first received bid wins.
Taxes! Yes Taxes! Shopgoodwill online has taxes. Buy in the store and you don't have taxes. If you have a state resellers permit, submit your resellers certificate to Shopgoodwill's main system administrator to avoid being charged taxes. Shopgoodwill is a "Marketplace Facilitator" based on the new laws states imposed after the 2019 Supreme Court Decision. This decision, while not approved or looked at by Congress which ultimately has oversight for interstate commerce, has resulted in individuals states creating their own laws regarding sales online. As a result, ShopGoodwill which is managed by the Orange County Division in Southern California, is collecting and submitting sales taxes according to each states Marketplace Facilitator laws.
Should you shop on ShopGoodwill? If you're comfortable buying things as "Parts", "Untested", vague "Descriptions", then consider it. As one of it's original beta testers and frequent shoppers, I've only received one item that didn't work when I received it. It was sold as "New". I purchased it at a price I could live with it, plus I took it a part and figured out what was wrong, so ultimately it worked.
New experience update 2/21/2021
You know that old saying, that you don't want to talk about your good experiences, because you might Jinx it? Ummm, well!
Ironically, not long after updating this article for the first time in a year, I received an order from the Easterseals-Goodwill Northern Rocky Mountain -SLC 1850 W 1500 S. Salt Lake City, UT 84104. The first screwed up order since the beginning of ShopGoodwill when I was one of its founding beta-testers. A 98% good streak is admirable, except that it means I lost money on the purchase and my ROI.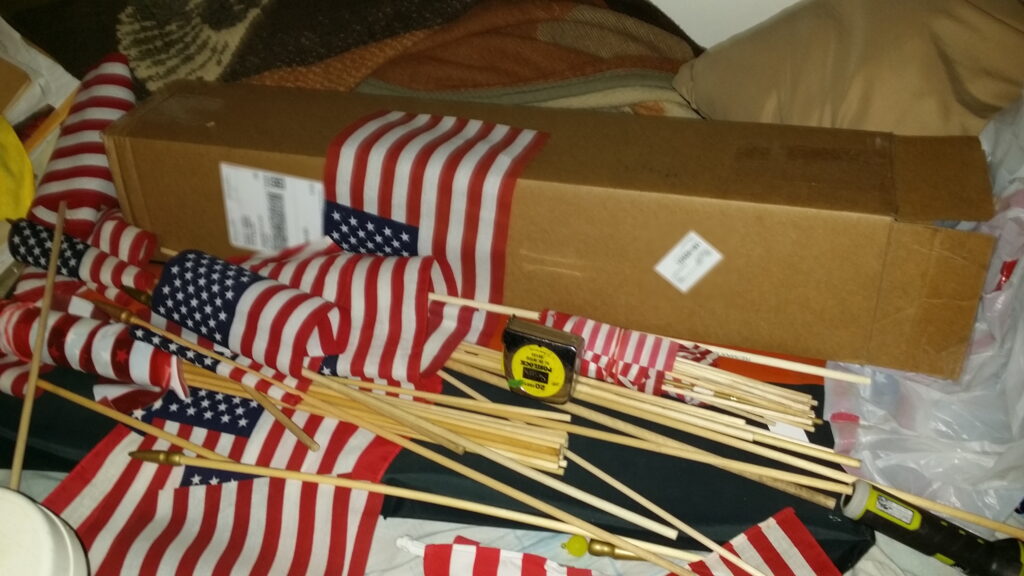 I has bid on a lot of flags, which included two new in package flags. The used flags would just be bonus, but the prizes were the two new in package flags.
The package arrived via FedEx promptly and everything looked beautiful until I opened the package and everything except the prizes were in the box. All the "extra bonus" used flags, minus the two new packaged flags.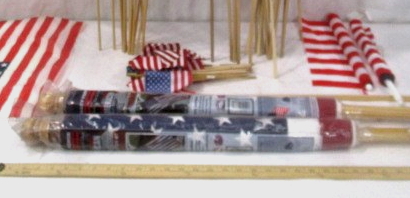 Now if this had been a seller on another marketplace, this would be a noob move that I'd quickly resolve by reaching out to eBay, the main place I shop, and they would give me a return or the seller would give me a partial refund.
But this is ShopGoodwill, no returns, no refunds, sold as is, buyer pays shipping on returns even if item isn't as described and yep, no refund of shipping fees, no partial refunds. But considering the value of just one of the new in package flags are more valuable than the entire lot of used flags and the I won the auction at $18 plus shipping at $14; returning this package will cost me a total loss of all the flags at $18.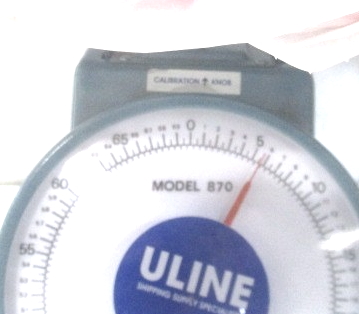 Now I always want to assume the best with Goodwill employees, but my experience with their customer service have been less that satisfactory, general poor follow through and hours having to contact and recontact them through their e-mail, messages, and main phone numbers. But in this case, this feels like one of those moments, someone walked away with my new in package flags, or perhaps they decided to sell those two items on the floor of their store and hope I wasn't who I am. A profession sourcing advanced reseller who flips for a profit.
I counted the items in the photo, inventoried the items when they arrived, took photos, etc. Those are all things we do as resellers. Now remember, these are all items ShopGoodwill received for free as donations. But they also posted a photo of the scale with the weight of the packages, something no other seller on ShopGoodwill does, so I verified the weight of the package shipped per FedEx which clearly states the actual package weight on the label.
How will Easterseals Goodwill Northern Rocky Mountain -SLC End up resolving the shipment missing the main items of a lot purchased from this vendors ShopGoodwill location?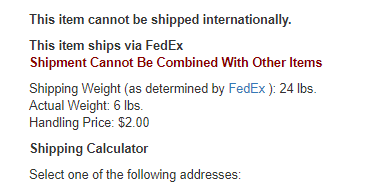 However to complicate this matter further, buyers on ShopGoodwill do not pay the actual shipping weight, they pay whatever a ShopGoodwill vendor posts as the shipping weight, in this case they listed it as 6 Pounds. And 24 Pounds per FedEx Dimensional Weight. A total package cost of $14 including their handling fee. The actual package that arrived was only 3 Pounds. This means, that despite the lower shipping ShopGoodwill actually paid for the package minus the two large in package flags, I still paid the full 6 pounds of weight at the 24 LBS Dimensional Weight to GoodWill.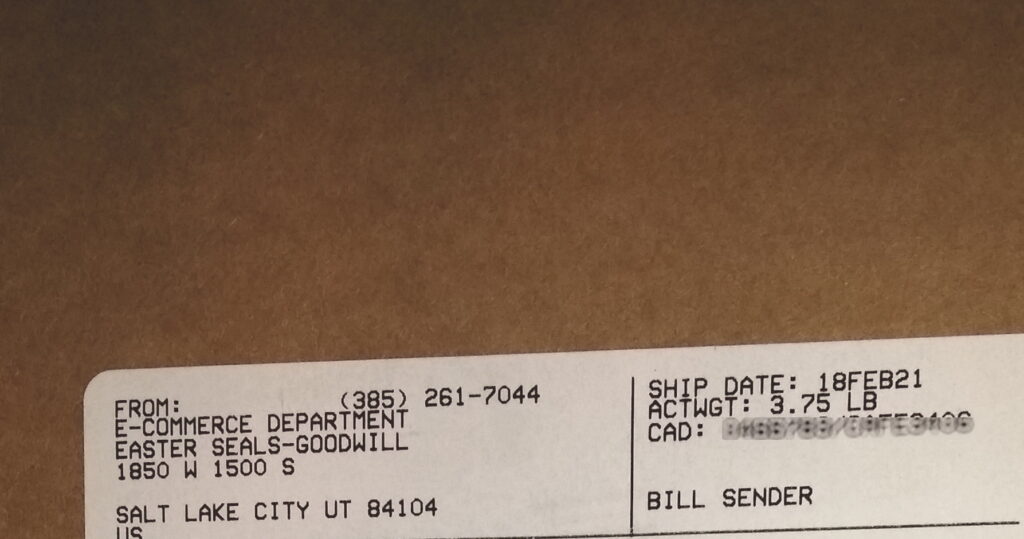 How will Easterseals Goodwill Northern Rocky Mountain -SLC End up resolving the shipment missing the main items of a lot purchased from this vendors ShopGoodwill location? I don't know. This just happened today, and I've taken all the steps I can take.
Photograph the package right after its opened. The package was still sealed with the original tape, so it wasn't FedEx who removed them.
I inventoried the lot. Because this was a lot of multiple flags with different sized flags and poles, I decided to inventory the items received by the length of the sticks. That was more efficient that doing it by the actual physical dimensions of each flag.
Took photos of the shipping labels
Made pdf files of all the auction details and shipping orders on ShopGoodwill.
I rechecked the box a few times, yep still missing.
I tried to contact this ShopGoodwill vendor via it's "Contact Seller" page via the order and shipping page, but it gave me an error.
I tried to contact this ShopGoodwill vendor via the original listing using the "Inquire about this item" page, this gave me an error also, so I removed the photos I had intended to provide and was able to submit my "Questions of Inquiry" successfully creating a ticket.
I let them know in the message, I still expect to receive to the two main items that are missing and to have them shipped at their expense considering they only paid the actual weight of 3 1/2 pounds and charged me 24 LBs Dimensional Weight.
I paid with PayPal and did not, do not, never will, use their Stripe Credit Card Feature. Why? Because I have a business PayPal account and Paypal has a 180 Returns Policy Guarantee for purchased items. Stripe has no returns policy and only processes credit card purchases, so the only option would be to do a credit card return, and in my experience, that just creates problems for my credit card account.
What happens now?
This is only my third purchase from a Shop Goodwill gone bad. In one situation I received no resolution of satisfaction. That was with ShopGoodwill Los Angeles. The second Shop Goodwill problem was also with ShopGoodwill Los Angeles, in which on half of a new in package product didn't function. These were a two pack of Air Cleaner Hepa Filter Systems. One of them didn't work, so I ate the cost on it taking a loss. However, in this case, because I am dealing with a vendor via a shipped package, and I didn't receive the key items, I will play the aggressive role and expect them to correct the issue to my satisfaction.
I'll give this vendor an opportunity to ship the two missing items at their expense.
If they can not ship these items, refuse to ship them at their expense, or only give me the option of returning what I received and take a $28 shipping loss, then that is unreasonable for a $18 auction in which the two new in package items were not even received, in addition to being over charged originally on shipping. This will cause me to immediately file a PayPal dispute without responding to their objectionable offers.
2-22-2021
So we have an update, and so far its a good one. Easterseals Goodwill Northern Rocky Mountain -SLC responded within 18 hours! That is a very admirable customer service response time. Even better, they have found the rest of the Lot, and will be shipping it out.

While this is a good outcome, it always makes one wonder if this is the common outcome. What would have happened if they hadn't found it, or didn't want to accept my word on it not having been sent? That would of made for a frustrating experience. No one wants to lose money or not get what they paid for, and anyone whose busy that has to dispute a total $18 auction (not including shipping), is going to end up wasting their time responding, going through whatever resolution process that is offered (if any) and ultimately dealing with PayPal or their Credit Card company. In California, minimum wage is currently $15 an hour (before taxes), that means if you spend an hour disputing a low auction value item, you've already wasted the cost of the auction in time. Time is money, whether you're getting paid or on vacation.
Now, well see how long it takes for it to ship and be received, and I'll post yet another update. So far, things are looking good.