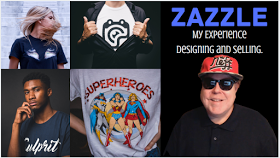 I'm not a fan of critical reviews, but Zazzle.com deserves an honest one.
ZAZZLE is one of the older and original websites where you can create and design your own custom clothing and other items.
Its prices are on the high side, it's quality isn't on the top end compared to other websites that allow you to create custom individual items, but it is relatively easy to use.
If you are only making a design for yourself and friends, you'll probably be happy with what you receive. They'll deliver it in a timely manner.
However if you want to use Zazzle for business use, to make commissions, or for resale, look else where.
I've used Zazzle for thirteen years designing t-shirts, hoodies, bumper stickers and other items for non-profit entities and for resale. Everything was fine until I got locked out of my account following the Yahoo e-mail account breach a few years ago. My email was a Yahoo account and I closed it out for security reasons without realizing it was used for my primary Zazzle account. Previous attempts with Zazzle support left me locked out, at least now they have a tool to change the email address if you have the right e-mail and password.
After numerous attempts to recover my Zazzle account via their support, I'd basically given up for a while as I got busy running my small business.
Jump two years later, the global pandemic was ending, California was on the verge of reopening, and my small business had gone out of business under the excutive powers of California Governor Gavin Newsom like many other small businesses.
The fact that my Zazzle account had been unable to be accessed was forgotten during this time of survival, getting back into My account just didn't seem like a top priority as friends and family passed away.
I could see a rainbow rising from the passing storm and decided to design a new shirt I had been thinking about making.
I went to Zazzle's website and designed it without logging in, then when I was ready to purchase a sample I tried to login and of course I couldn't login; it wanted that former Yahoo e-mail account.
Call it fate, karma or Destiny, but after a few hours of trying to get into my account, I realized that my two different stores on Zazzle had been merged. I'd always only tried to login to the main account.
I decided to try and log in under the second account and to both my surprise and happiness it worked! That account had an e-mail account I still use. Excited I was! (As Yoda might say)
I saved the new design and decided to check on the designs I had in my stores. Looked great! Had $176 in sales even. Cool Beans, I thought to myself as I went to peek at my commissions. A womping $16 in commissions! Woohoo!
I figured I might as well withdraw the commissions and use it towards the new shirt design. I intended to order one to see if the quality was better since the last time I personally bought something for myself on Zazzle. It's also just a good idea to sample the actual design before offering it for sale to others.
That's when I saw, that I needed $50 in commissions to withdraw any. That was new. I checked the commission history and noticed withdraws made. I thought that was strange since I'd not been able to get in my account pre-pandemic.
In fact, month after month withdraws were made until my commission balance was $0.00.
I'd previously withdrew my commissions without any problems, but hadn't attempted to for obvious reasons, but also because I preferred doing it in larger numbers.
I couldn't find any reason for the commission withdraws, so I looked in the terms of service, and apparently at some point, Zazzle implemented a new policy to take and keep any commissions of an account that hasn't created a new design for sale on its marketplace or if a sale hadn't occurred in the last 15 months.
What a rip off! Never heard of such a policy on any marketplace or service I've used for business before where commissions were earned.
Its just unfathomable that Zazzle would profit on the product and take the commission also.
I have a buddy who owns a custom silk screen print and imprints shop within 1000 feet of where I live. Unfortunately, I'd have to handle the inventory if he printed for me. I simply do not have the space. I've toured his shop, interviewed him for YouTube back when I was on the Hiking With Randy channel, so I know exactly the kind of profit Zazzle makes per item sold. There really isn't any legitimate reason to steal their designer's commissions too.
I'm also uncomfortable with the pressure they're placing on designers for creating new designs for Zazzle and having recent sales or they keep a designer's profit. They would do better by creating a positive motivation strategy to encourage designers to want to create more designs for them to sell.
So should you use Zazzle? Is Zazzle legit? The answer is, partly.
Should you design things for Zazzle to sell on their marketplace? I can't recommend anyone use Zazzle for this purpose until they return to designer friendly policies.
Should you create designs for personal use on Zazzle? Sure, but shop its many competitors for prices and read recent reviews about the kind of quality being produced.
RedBubble is an Alternative I have found whose policies appear very designer friendly, they have a low commission withdraw level, no pressure or attempts to hold the creators hostage and I didn't find any hidden policies suggesting they'll keep your commissions or try to take ownership of your copyrights. That's the way it should be.
RedBubble also has good reviews about their quality. But I personally haven't used it. It was just one that stood out when I began looking for a Zazzle replacement.
Conclusion, since Zazzle left me with no commission money in my account, and I do not agree with Zazzle's new pressure tactics or commissions policies, I decided to terminate our relationship and deleted my designs and closed my stores.
Finding another place to design and sell is easy, finding a quality designer is not.
I think this Covid Pandemic and being forced out of business by Governor Gavin Newsom taught me a valuable lesson.
"Don't waste your time with companies, politicians, or people who take more than they give."
Read my Zazzle review on the Offical Randy Dreammaker website.