My first review was over 21 years ago on a website called Epinions [dot com] in 1999, where I was a top-rated reviewer for 14 years, followed by 3 years on Shopping [dot com]. After eBay purchased both of them and ran them into the ground, similar to what eBay did when it bought Half [dot com], in 2013 I fully moved to doing YouTube marketplace reviews for SellerThink. As of 2022 SellerThink has moved to RUMBLE.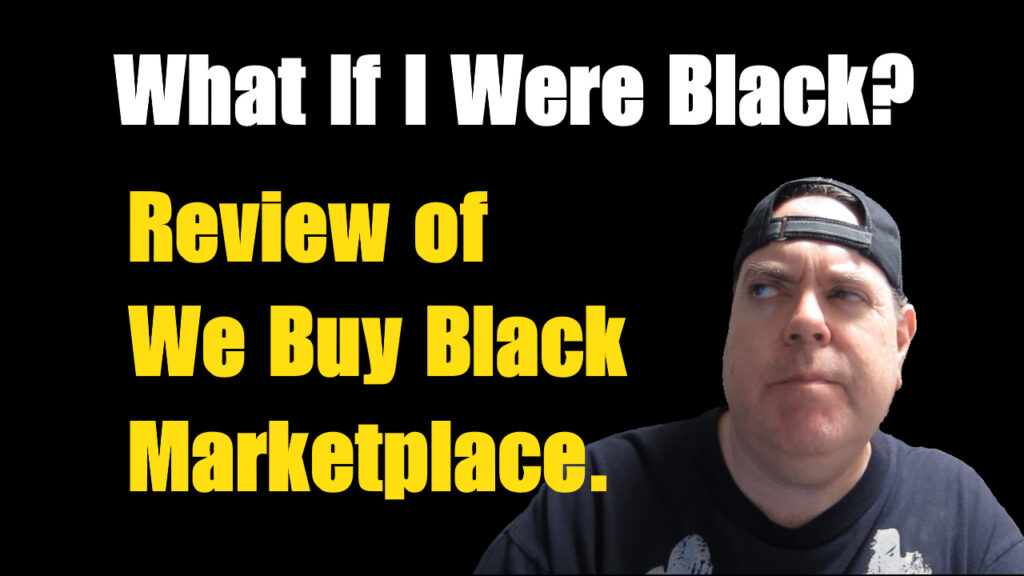 I've reviewed all kinds of marketplaces over the past seven years on YouTube; great marketplaces and sketchy marketplaces alike, some of those reviews removed long after those marketplaces faded into ecommerce history.
A review of WeBuyBlack.com, the ethnically exclusive, anti-diversity marketplace for black people.
In 2016, We Buy Black claimed to have 2,000 black sellers on its marketplace. As of August 2020, We Buy Black has 9,746 registered sellers / vendors.
Black Lives Matter has gained corporation buy in from companies like Starbucks to Target. So as a marketplace reviewer, I decided to find out if any marketplaces existed encouraging black businesses. I found one, a marketplace unlike any I have ever previously encountered. As good as that is, it unfortunately makes the sketchy failed marketplaces of the past reviews seem rather pleasant. I never imagined a racist online marketplace would exist in America. Let me explain, how this great idea for a marketplace has remained unchecked, un-scrutinized, unaccountable and escaped the same standards all other ecommerce marketplaces are legally subjected to under America's Title VII of the Civil Rights Act of 1964
We Buy Black – Terms of Service Hypocrisy
Despite having the normal "no discrimination for race, gender, ethnicity, etc. this marketplace 100% violates even its own Terms of Service, in addition to US Law regarding businesses violating these areas, in it's Section 15:

The TOS sounds normal, looks normal, is typical and would be all right if they actually followed their own terms. Instead, this marketplace does opposite. I present you with We Buy Black (www.webuyblack.com) the most racist online marketplace in America.
In its application to sell on We Buy Black, it clearly and intentionally discriminates against anyone who, well…. isn't black. Sellers, are clearly asked to identify their business as black owned up front, at the top of its registration process to immediately reject non-black owned and operated businesses.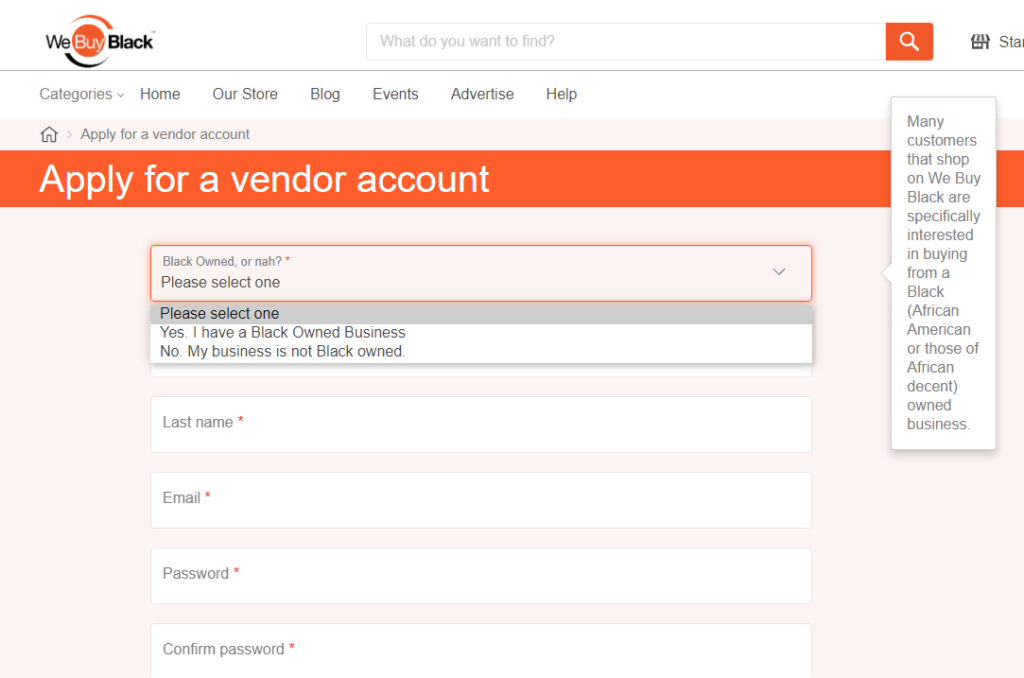 Like myself, as a half white, half native American Indian, you might want to give them the benefit of the doubt. Maybe, its just to identify that the seller wants to sell products made and manufactured by black Americans, and blacks of other origins. NOPE!
In fact, We Buy Black takes multiple steps and measures to ensure that no people of European, Latin, Middle Eastern, Indian, Asian, or other non-African decent sneak past that first "Apply as a Vendor" Account question.
Lets review its verification process as described by their customer service Zen Desk help section.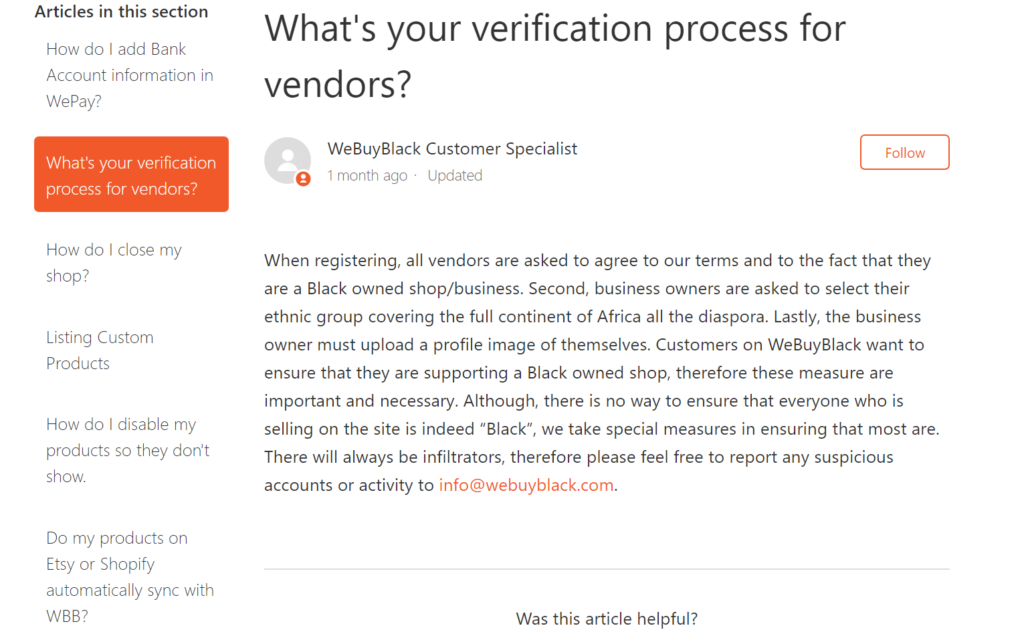 Who can sell on We Buy Black
First you will have to agree to section 15 of their Terms of service, that state they do not allow intimidation, harassment or discrimination, etc. based on ethnicity, race, gender, etc. A very common and standard policy for a marketplace's terms of service (TOS).
Second you'll need to pass the "are you a black vendor" test on their application form, by selecting that you are a black owned business.
Once you pass the first black tests, you'll have to provide additional information.
Third, provide your ethnicity grouping (covering the full continent of Africa and all the diaspora), that you belong to.
Fourth, Upload a selfie photo of yourself, so that We Buy Black can verify you are really black.
According to We Buy Black's website, they attempt to reassure their desired targeted shopping community "that they are supporting a Black owned shop", and then suggest that "these measures are important and necessary. " As my Chinese niece would say, REALLY!, JUST REALLY!
Just when you think it can't get any worse, we come to its final statement on it's race and ethnicity exclusive policies. "There will always be infiltrators, therefore please feel free to report any suspicious accounts or activity to info@webuyblack " Crazy right? If you ain't black, you'll get banned. Imagine the complaints Mercari would have if they tried that, or Bonanza, or eBay, Amazon, Ioffer, eBlueJay, eCrater, offer up, Depop, Let Go or Poshmark.
America is unique in that anyone can start a small business online or offline with a couple of dollars, regardless of race, and become successful. Even We Buy Black's founder Shareef Abdul-Malik started his online marketplace with free money from private donations via Kick Starter on two different occasions. 873 backers pledged $34,370 during round one, and 2,487 backers pledged $77,256 during round two, both rounds from 2015 to 2016.
I am curious, did the 3,360 backers know that they were supporting and helping build the only marketplace in America, that would discriminate against other ethnicities? If they knew, would they still have contributed money?
The opportunities in ecommerce are equal, whether you are an individual with a few dollars or someone opening a marketplace from a presentational perspective. It is a nameless faceless mall of shops. No one knows your race or ethnicity, gender, etc, unless you go out of your way to present it that way. Shoppers only know whether you provide a good service, good product, fast and timely shipping and whether you provide helpful customer service. A brief browse through ProductHunt, Trust Pilot, SiteJabber and similar marketplace review websites make this evident. People want a good product and good customer service.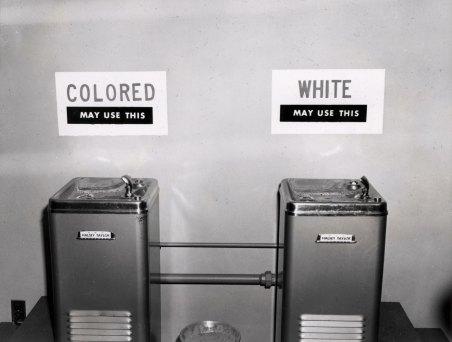 To be clear, I am honestly disappointed in the current version of We Buy Black. I like the idea of a marketplace that offers ethnic products, regardless of which ethnicity. Having taught and lived in Japan, and studied in southern Mexico, I sometimes want to find products that I enjoyed that I can not find at eBay, Mercari or Amazon. So in the past, I've jumped in my car and driven 50 miles to a few marketplaces that sell exclusive Japanese imported products. However, if I found that those physical marketplaces practiced hiring discrimination against non-Japanese workers, I'd never step through their doors again.
In a few reviews, I've read comments from those in the tech community, regarding the need for black exclusive safe spaces. That concept is isn't dissimilar to the rational Abraham Lincoln had to compete against to end slavery in America and establish the 13th amendment. The south wanted to keep free labor the north wanted all forms of slavery abolished.
I am reminded of this quote:
"Will this generation be able to turn things around and learn a valuable lesson from all of this? I hope so, but I have my doubts. The damage has been done. And as a lifelong student of history, it's quite evident that human beings don't learn from the mistakes of past generations."

― Aaron B. Powell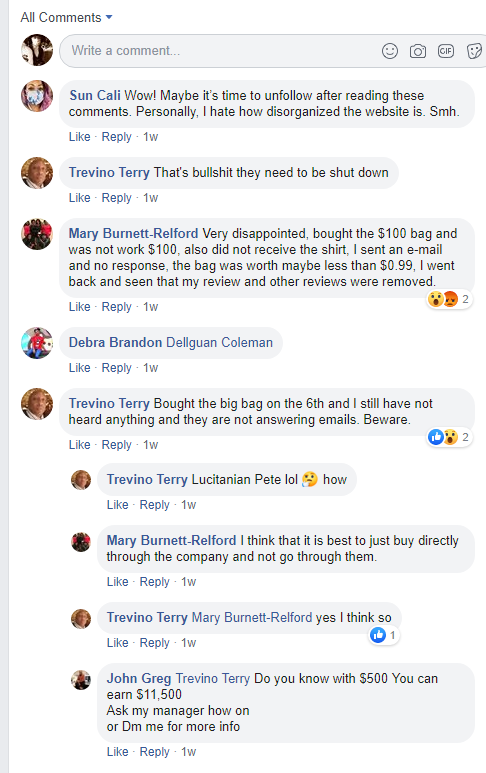 Does SellerThink recommend selling on We Buy Black?
In its current platform, SellerThink does not recommend anyone sell on We Buy Black. A marketplace that compromises in such a key area as racial equality, is bound to compromise in other areas of its organization. As sellers and vendors, we rely on and depend on those running the ecommerce platform to withstand the highest levels of integrity and have a fair and impartial ethos, as they represent us publicly on their app and website. A marketplace handles our money, provides us with support during customer disputes and assists us in the management of our business. We place an enormous trust in a marketplace, that at the end of the month our money will be in the bank, our products won't be returned unfairly, we will have paid a fair commission and received a decent ROI (Return on Investment) and our customer (which is really the marketplaces customer) will have been equally treated well. It's had to have that kind of faith in a marketplace that from day one, violates the moral qualities of ethnicity, inclusion and diversity.
Its probably only a matter of time, until someone who attempted to or attempts to sell on this marketplace, and has or was rejected for any reason, wises up and sees the potential economic value of filing a discrimination lawsuit against We Buy Black for violation of their Title VII of the Civil Rights Act of 1964 (Title VII) Title VII of the Civil Rights Act of 1964 (Title VII) A rejected seller of a non-black diaspora, wouldn't even have to directly prove that they were rejected due to their race or ethnicity, they would only need to imply that they were discriminated against under Title VII of the Civil Rights Act of 1964. This marketplace already has a documented history of discrimination, that would easily support such a claim. On the internet, where we have the Way-Back-Machine and similar projects that archive websites and marketplaces, there is no reasonable way to completely eliminate, nor permanently remove this marketplaces discriminatory past.


As a marketplace reviewer, marketplace beta tester and someone who has advised and mentored a CEO and Senior Manager of a different online marketplace; my best guess is that this marketplace's founder either had really poor mentoring or no mentoring. I make this assessment in part, by it having been independently funded and launched via a KickStarter campaign. I was unable to locate We Buy Black on Angel List, where I am a member. Angel List is where tech, money and mentoring merge. Marketplaces and projects provide details about a businesses investors, mentors, founder, employees and funding rounds.
In case you are wondering if their is a legitimate online environment of potential shoppers, I pulled up a few global census statistics to help show the buying reach of the black and African diaspora. This is only a sampling of percentages of those identified as a black diaspora by nation:
South Africa 76.4%
U.S Virgin Islands (US Territory) 76%
Cuba 62%
America 13.4%
Puerto Rico (US Territory) 12.4%
Canada 3.5%
United Kingdom 3%
Mexico 1.2%
Japan .02%
The potential for We Buy Black to be successful, exists, just not under its current misguided framework. We Buy Black could turn itself around both ethically and legally, and successfully become a positive contributor to the to the world of ecommerce, with the assistance of mentoring and the elimination of its policies that discriminate against non-black diaspora seller and vendor policy. Its difficult to know if its current founder is capable of such a revival. I've watched a number of marketplaces start off well and never reach their full potential.
Final Thoughts.
"What ultimately got me through was my single-minded determination, voiced aloud to myself and recorded in my diary, to discover the causes of my blindness and never to repeat them. Fearlessly pursuing insight was my badge of honor, my route back to self-respect."

― Jeanne Safer
Video: Kickstarted Round 1 – We Buy Black's founder Shareef Abdul-Malik
Randy Dreammaker has been selling online since 2006, he began making money on the internet in 1998 through various tech endeavors. He was a top rated reviewer for Epinions Review Website for 14 years. He has participated in beta testing and advising several major marketplaces, including eBay, Mercari, Ebluejay, the original Storenvy and the former Shopseen. He has helped over 2 million sellers as of 2021 "according to YouTube", SellerThink is now hosted on Rumble Video Network. Randy is on AngelList, the whose-who website and database for entreprenuers, start-ups and tech industry.